In our northern latitudes, a ground-mounted solar array can typically deliver a higher energy output for the same installed capacity when compared to a rooftop system. This is explained by a steeper, more optimal array tilt than a roof-mounted solar array can be installed at. The steep tilt angle of 30-40 degrees helps to generate a higher annual yield and helps modules to clean off the snow faster in winter months. Combined with economies of scale, this is the reason why utility-scale projects are ground-mounted. The generation yield of a ground-mounted solar system can improve by 15-20% with a single-axis solar tracker and by 31% with a dual-axis solar tracker system.
A well-designed and installed ground-mounted solar system has a long economic life, which is not limited by the life of buildings. Unlike rooftop systems, ground-mounted solar PV is installed once and for the long-term, while rooftop systems may need to be moved and re-installed every time the roof is replaced or repaired.
The economics of ground-mounted solar improves rapidly as the project size gets larger. The land area required for 1MW of fixed-tilt ground-mounted solar with 18% efficient modules, including clearance from fences, ranges from 4 – 6 acres. Good access for interconnection and predictability of the interconnection costs are often the key factors in deciding about the ground-mounted solar system location and its sizing.
Another very important factor is the suitability of the soil for cost-effective foundation design. At a minimum, the life of foundations and racking should match the 30+ year life of the solar array.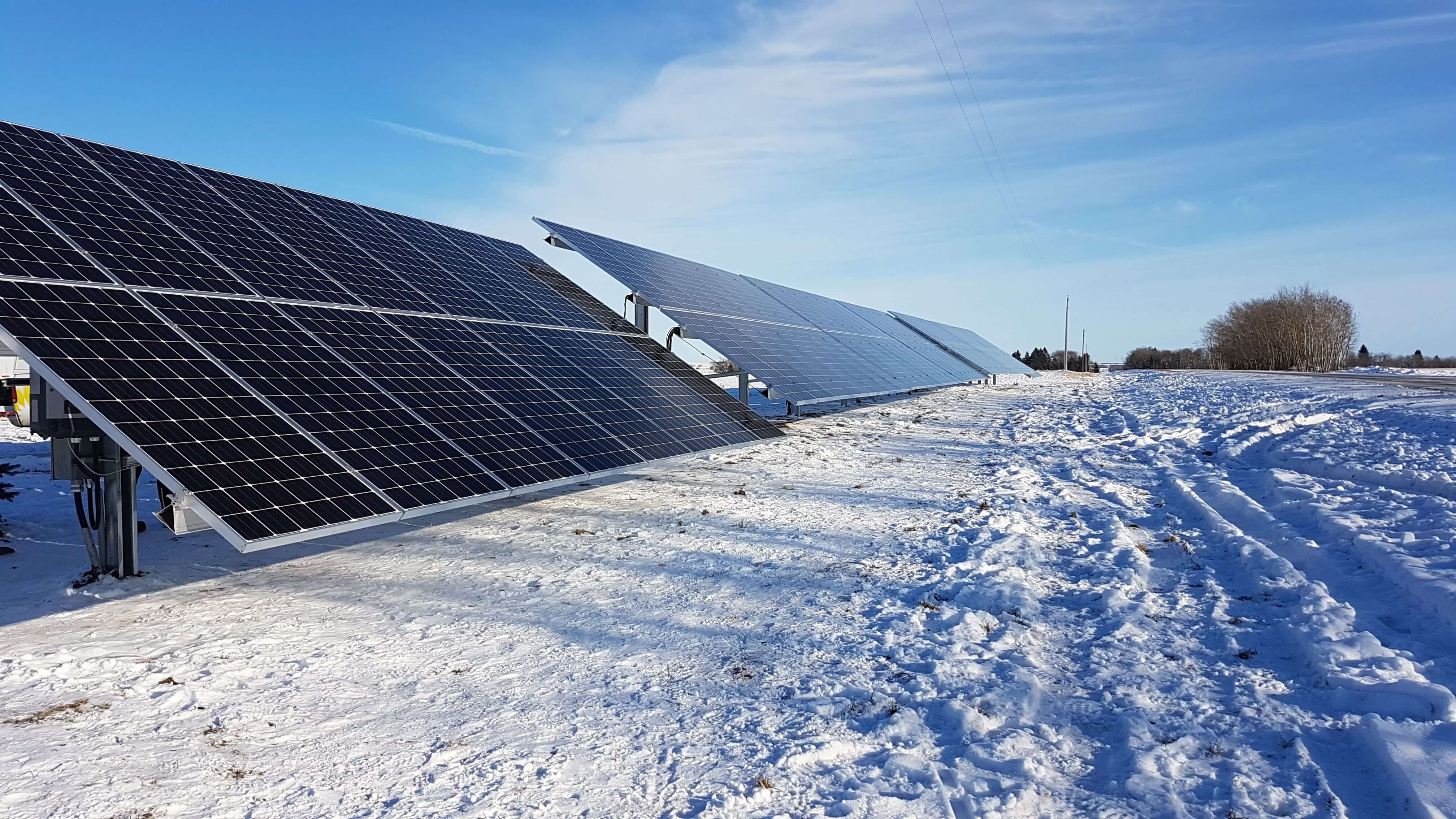 Finding the right balance between the cost of foundations and how well foundations will last in the long-term helps to maximize Return on Equity (ROE) and mitigate the risk of potential future issues. Most of the ground-mounted solar system foundations installed in Western Canada are experiencing a frost-heave force that can eject concrete, or steel piles, or helical piles out of the ground. A proper foundation design that is based on soil samples, load tests, and pullout tests determines the required embedment depth. Dandelion Renewables has designed and successfully installed many foundation types across Saskatchewan, Alberta, and British Columbia.
There is a trend in the solar industry towards installing more of the steel ground-mount racking. Steel is cheaper than aluminum, however, steel is susceptible to rusting and is heavier.
Through our partner, Dandelion Renewables conducts all the testing required to design the optimal foundation in Alberta, Saskatchewan, British Columbia. We evaluate frost-heave impact based on the methodology that goes beyond Canadian building code requirements and we do our own due-diligence about racking materials and galvanization used. In the end, ground-mounted solar systems that we design and build are optimized for the longest life and the lowest cost to the customer.