Edmonton homeowners can apply for a rebate to be used towards the installation of solar. The program is providing $0.40 per Watt for existing residential units and $0.30 per watt for new homes. The program has a maximum of $4,000 available per dwelling unit.
As of this post, the program is already 77% filled. This may be the last year this grant is available, so you will need to consider getting a quote and see if solar makes sense for your home to benefit fully from the money that is available.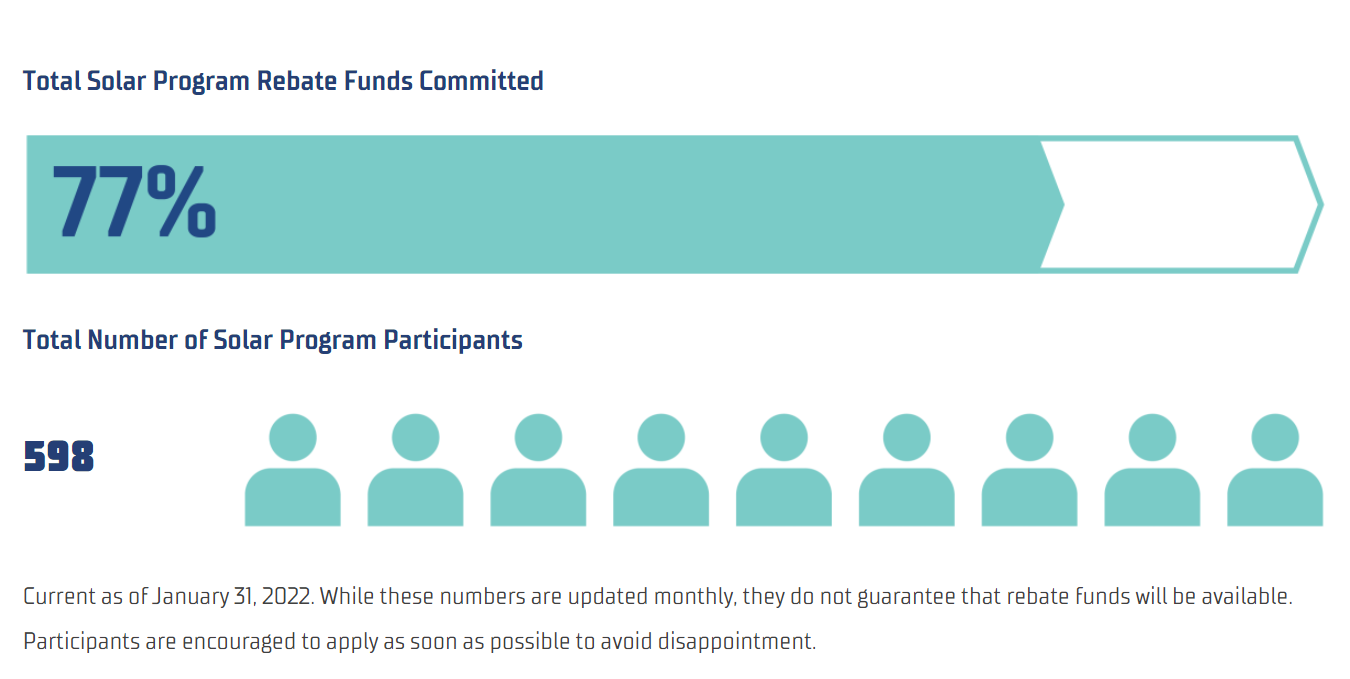 (Solar Rebate Program, 2022)
The solar rebate program secures your refund after you complete part 1 of the application process. If you are thinking about installing solar now is the time to get your questions answered and consider going green while these saving opportunities are available.
Why Go Solar
With the Greener Homes Grant and with the Change Homes for Climate Program available now is the time you can save the most on your solar system. Investing in solar not only contributes to lower carbon emissions but lowers your risk to volatile electricity rates. If you are thinking about getting an electric car you can fuel your own vehicle at home and with rising fuel prices save on refueling your vehicle.
Rebate Requirements
Installation requires a qualified solar provider.
"Residential Property" means a building or building(s) located within the municipal boundaries of the City of Edmonton that has one of the following residential uses under the City's Zoning Bylaw #12800:
Apartment Housing
Duplex Housing
Row Housing
Semi-detached Housing
Single Detached Housing
Stacked Row Housing
Mobile Home
Garden Suite
Garage Suite
An eligible Residential Property may have one or more dwellings, as defined in the City's Zoning Bylaw #12800. In such a case, each occupied dwelling is eligible to participate in the CHCSP.
Eligible Expenses
"Eligible Expenses" are defined as the following expenses which are eligible for inclusion in the calculation of the maximum payable incentive:
a) expenses for the purchase of the solar PV equipment for the project (i.e. solar PV modules, racking, inverters, transformer (if any), cabling, conduit, fittings, disconnects, and monitoring interface);
b) expenses for the design, development, energy modeling, engineering (structural, electrical, civil, geotechnical), specification, procurement, and construction of the project;
c) expenses for obtaining the required electrical permit and grid-connected approvals, and any required building and development permits;
d) expenses for completing the required electrical inspection and building inspection for the project; and
e) expenses borne by the applicant for transmission and distribution system upgrades necessary to obtain interconnection approval.
You can review the full terms and conditions here.
How To Apply
Dandelion Renewables will design, acquire permits, install, and handle the application process for the city rebate. We take care of getting you set up with solar so you don't have to. We aim to reduce the carbon footprints of our clients and offer an opportunity to save on their electricity bills with the increase in Alberta's electricity rates. We are proud to be one of the top-rated solar and renewable energy contractors in Western Canada. Contact us for more information. Check out our latest blog post on Rising Alberta Electricity Rates.
Citations
Solar rebate program. Change Homes for Climate. (n.d.). Retrieved March 9, 2022, from https://homes.changeforclimate.ca/solar-rebate-program